© previous project next project¨
180 sq.m.
1,938 sq.ft.
The site is in the village near white sand beach in southern island in Japan that
belongs to the subtropical zone. It locates at the high point of the village.
On the 2nd floor level, they see the sea in the both side of East and West. In the neighbour of the northeast is a sacred space for locals. In this area they live with
natural and ancestor belief. They pray there toward the sea of west side over that they believe of that the pure land exist.

On the 1st floor with radiated plan, the 2nd floor with square form plan is put.
The 1st floor is a common space for guest and a client space. The plan was decided so that the view from the sacred space would not be obstructed by the construction of this architecture. The corridors between 3 spaces are for passing
the views from the sacred space to the sea of the westside.
The 2nd floor is guest rooms. The plan was established adjusting to the axis of the south-north and east-west, and each room has terrace opened to the east and west so that they can experience the sunset and sunrise on the sea.
The roof is covered with green. It is a consideration for the view from the rural village that is at lower level than here. The guest from the room also can see the sea over the green.

Loaction : Motobu, Okinawa, Japan
Architect : Daigo Ishii + Future-scape Architects
Structure Engineer : Oga Structure Design Office


@@
@@
@
@
@
@
Ckick the following photos in order to see the enlarged one.
@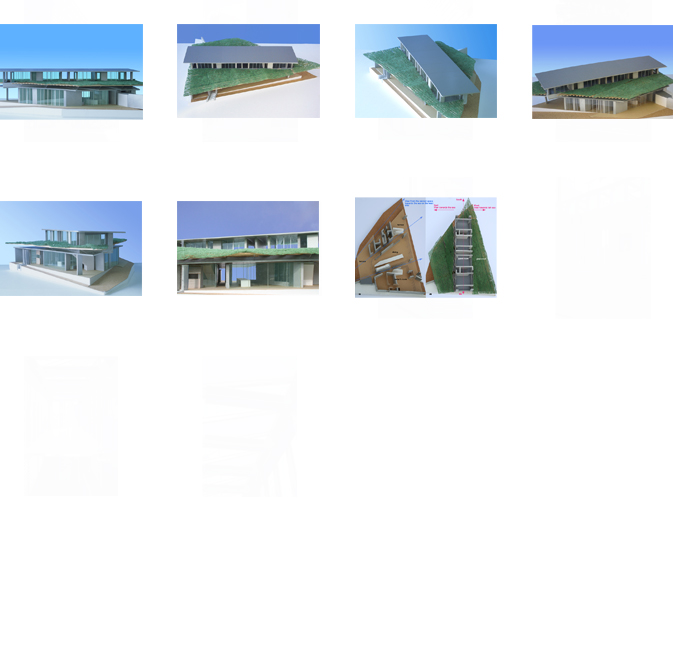 @
@
@
@
@
@
@
@
@
@